"I have a video job interview in 2 days. I need a haircut, but I can't get one. I don't have anything to wear. The stores are closed. I can't rely on an online order to arrive before my meeting. What exactly do I do? I want to know how to look good in a video job interview."
This was a call I recently received from a client who wasn't feeling video ready for his interviews.
What exactly are you supposed to do until you can get to the salon or the store?
For tips on how to get by, I talked with two experts for their advice on how to look good until you can get back into the salon or store.
First off, know that your interviewer will probably forgive you for looking a little more unkempt than usual (they're in the same boat, after all). But you still want to show that you've tried to look your best and make a good first impression.
What to Wear in Your Video Job Interview: Get Dressed Up From the Desk Up
"When you meet your interviewer online, they don't feel the firmness of your handshake, they don't see your micro-expressions, and they don't see your stature and body language, so that visual story becomes very important," says Rose Jubb, Wardrobe Stylist, Style Class.
"For your video job interview, you need to be dressed up from the desk up," Jubb says. "Dressing up gets you into the mindset for getting down to business and leveling up the impression you make in those first seconds on the screen."
Here are her top tips on what to wear when you need to make do with what you have:
Go for structure first—a blazer, a jacket—something that has structure around the shoulder. "Structure can set a subconscious tone that you're responsible and trustworthy," Jubb says. "If you don't have a blazer but have a dressier coat—that could pass as a jacket. Another option is to wear a nice sweater over a button-up."
Err on the side of wearing a solid color button-up or blouse or larger prints. Remember that video resolution for small prints can look funky online.
Borrow something! If you don't own any of these pieces, then phone a friend who's your size and have them drop some options on your doorstep. You can customize and invest later!
While the focus is on your upper half, still dress your lower half as you would if you were going in person. That way, you're in the mindset and who knows? You may need to get up from your desk at some point.
How to Choose Which Colors Look Best on Video
The color that looks best on video should look best on you. "Bolder tones like jewel tones look great online, but you should wear what you look and feel good in," Jubb says.
How do you tell which colors look best?
Try the "Vacation Test":
Grab any item of clothing or fabric that is blood orange or fire engine red, then grab something that is sky blue or icy in color. Hold one up to the bottom of your face looking in the mirror, then hold the other up to your face looking in the mirror. Whichever one makes you look like you've been on vacation–healthy and aglow–will tell you (generally) the direction you should go.
Still having trouble? Consider hiring an image consultant to help you decide what works best for you.
Accessories that Look Good on Video
Accessories can help you add personality, make you more memorable, and can even be a conversation starter. On video, you can accessorize more boldly than normal to catch attention, such as a tasteful statement necklace or a nice scarf.
Stress Less Before You Go Live
Make it easy on yourself and lay out your clothes the night before. Don't skip this step! This eases your stress level on job interview day. In this time where we're overloaded, overwhelmed, and worried, adding getting dressed can feel super hard.
Once you've chosen your outfit, check yourself in the mirror by looking at yourself, holding up your hands in a "director's lens" fashion. Or you can start an instant meeting on Zoom to see what you look like on screen before the big day.
What About Your Hair: Is a DIY Cut for You? What About Color?
Keep it Healthy and Keep it Down
"For men and women, the key is to keep your hair healthy and minimize damage until your next haircut," says Kristina Paris, master stylist, Dosha Salon Spa, North America Artistic Team, Aveda.
Here are her tips for good hair health and managing length:
Stay away from shampoos with high alcohol content or conditioners containing wax. These ingredients are terrible for your hair.
Add in a weekly moisturizing treatment or deep conditioner so your hair stays hydrated. You can use a brush called a wet brush which gently detangles your hair.
Embrace dry shampoos. If you're a once-a-day washer, switch out with a less damaging dry shampoo option.
Let your hair down at least 50% of the time. People tend to pull their hair back when it gets too long to handle. This can cause breakage along the hairline and can cause it to recede. Instead, you can pull the sides back, twist into a bobby pin or have your hair very loosely tied back. When you do have it up, be sure to vary the height of the ponytail or bun and don't use tiebacks with metal.
(Paris' product picks from Aveda include NutriPlenish (weekly moisturizing) and Shampure (dry shampoo))
To Cut or Not to Cut
For men, if you must cut your own hair, buy a pair of clippers online, buy an extra mirror, and use guards. Cut the sides shorter than the top, as a square shape is more desirable on men.
"Think very carefully before you touch your bangs," Paris says. "But if you must, cut them when they are dry and styled straight down. Err on the side of keeping them longer."
Use product that doesn't have high shine to help condense the hair.
If you don't trust yourself or your roommate/spouse/partner with clippers, now is a good time to experiment with growing it out. Google "Long Hair for Men" to find inspiration for what you like.
To access video tutorials on cutting, updated weekly and geared toward professionals, check out @Northamericaartisticteam
Your Color Grow-Out: Grab a Shade Lighter and Don't Touch Your Highlights
If you have highlights and they're growing out, you're in luck. Showing roots is on trend in the form of hombre or balayage. "Some people embrace it; others don't. It's all about your comfort level. But there are no safe hacks for highlights," Paris says.
"People need to be careful coloring their own hair, so do it as a last resort."  Her pointers on covering and/or hiding roots:
Try a temporary fix first, such as mascara hair color, tinted root sprays, or powders.
If you decide to go with a more permanent color solution, pick a lighter shade than what you think. It's much easier to darken than lighten when you get back into the salon!
If you have roots + straight hair, add volume to camouflage the grow out.
Get creative with your part. Straight parts accentuate grow out, so try a curved or messy part.
Accessorize with scarves or a headband.
Even with limited access and resources, you can still look good in your video job interview, bringing extra confidence to win that job offer!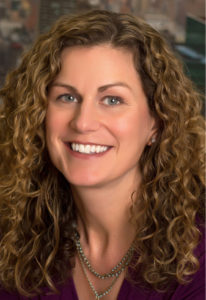 I'm Dalena Bradley, job interview and career marketing coach dedicated to helping you communicate your value, stand out from the competition, and win the job!
Contact me to discuss how we can collaborate.